KALI Tarot Prayer Cards
By Ellen Lorenzi-Prince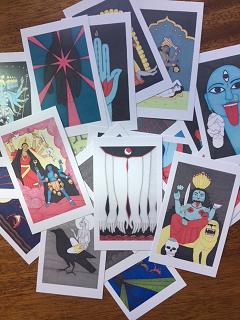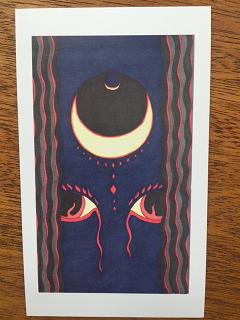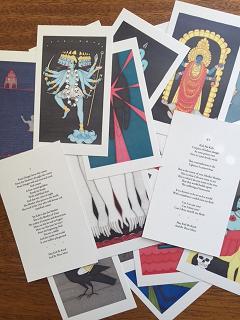 KALI is a goddess who has touched me deeply yet felt beyond my reach. So I created a deck of Major Arcana cards to manifest my own Fool's journey, my own path toward relationship with the great one. The Kali Tarot Prayer Cards are a work of devotion that uses the Tarot as a framework for a spiritual quest. They are my attempt at understanding the Goddess of Time, of Worlds, of Reality herself.

It worked. Kali has changed my life profoundly. She can change yours. The cards can help.

The images are inspired by the folk art of India and Tibet and by the words of 18th century Bengali poets. The prayers come from my heart. The following poem is for trump II, the High Priestess, whose image is featured above.
II

Ma Kali Ma Kali
May I begin to see you true

Through the veil of your hair
Through streams of darkness, ash, and blood
I seek your face in the night
And find the primal fire of your eyes
The wise moon in your forehead

The eye of illumination above
The eyes of passion and power below
You are a portal of power
You are a path through the void

I gaze at your face
To see you to know you
To open myself to this
Because I cannot resist
And I look deeper into mystery
Than I have ever looked before

* * *

May Kali Be Kind
And Be Thou Mine
All words and images on this page: Copyright (c) Ellen Lorenzi-Prince.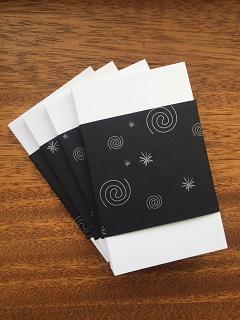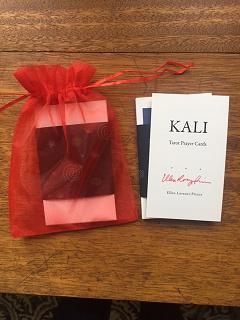 The 22 prayer cards measure 3" by 5". They are printed on satin card stock. An untitled drawing appears on one side of the card and the prayer is printed on the other. The only titles for the prayers are the corresponding Major Arcana card numbers (i.e. 0 for the Fool, XXI for the World). The title card for the deck is signed. The deck is packaged with a paper sleeve in an organza drawstring bag.

The price is $25 for the deck. The shipping cost is $8 within the US. Email me with questions about international orders at ellen at queenofghosts dot com and thank you!

With US Shipping

2 decks in one US shipment ($25+$25+$8)